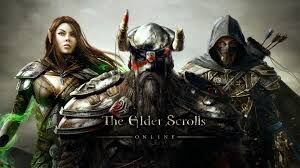 The Elder Scrolls Online is a massively multiplayer online role-playing video game developed by ZeniMax Online Studios and released on April 4, 2014 for Microsoft Windows and OS X. The PlayStation 4 and Xbox One versions were originally set to be released in June 2014, but in May 2014, a delay for the console versions was announced, with the release of these versions now expected in early 2015. It is a part of The Elder Scrolls video game franchise, of which it is the first open-ended multiplayer installment. It was announced on May 3, 2012 in an exclusive reveal by Game Informer and formally revealed in the same month's issue of the magazine. Elder Scrolls Online was finally released onto Steam on July 17, 2014.
The VenturianTale crew themselves had played the game three times in 2014. Eventually, two years later, VenturianTale would use this game again for An Elder Scrolls Online Tale, a new series and continuation to An Oblivion Tale that started on December 10, 2016.
Episodes (Excluding An Elder Scrolls Online Tale)
[
]
MEET THE TEAM! - Elder Scrolls Online Ep. 1
TREEHOUSES! - Elder Scrolls Online Ep. 2
WOOD ELF SPEECH! - Elder Scrolls Online Ep. 3
Characters in the VenturianTale Universe
[
]
Real Life
[
]
Fictional
[
]
Gallery
[
]
Behind the Scenes 
[
]
In THIS SERIES IS ENDING! - An Oblivion Tale Ep. 117 (Knights of the Nine DLC), Jordan confirmed that the next Tale series would be ESO. It would become known as An Elder Scrolls Online Tale. Additionally, the series itself is a continuation of An Oblivion Tale, a it follows the adventures of Asylum Weaver once again.