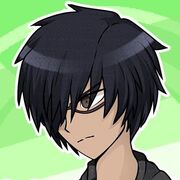 Michael Cabungcal, AKA MCab719 or Sierra A719 on the Wiki, is an Admin and a well known personality on DeviantArt. He is also the one people have come to know as the "Loremaster" because he is the creator of Gaelan, Vahl's twin brother as well give backstory to characters like Vahl, Gaelan and Miraak.He voiced Jasper in Qeios and George Arlo in Grandma: Misconception. He has appeared in several episodes of An Awkward Minecraft Tale. He recently started appearing with Cierra in VRchat videos on Bethany's channel. 
One of Michael's favorite games is For Honor, in which he mains Warden. He often plays with Cierra and MoSallu. He made multiple appearances in An Awkward Minecraft Tale, and built the Minecraft town of Frostpeak with Cierra and other friends. 
Michael is currently in a relationship with Cierra Frye, which was confirmed during her visit to California in late July of 2018.
He's 20 (at the the time of this posting).
His trademark icon is Crimson Typhoon from Pacific Rim.
He's also a Halo fan as shown by his Wiki username "Sierra A719".
Michael's favorite follower in Skyrim is Miraak. (Who saw that coming?)
He was mentioned in a few episodes of A Skyrim Tale.