For other Polls and info about Polls, Click here!

Welcome to VenturianTale Wiki!

[

]
Welcome to VenturianTale Wiki, the ultimate VenturianTale fanbase. Here, you can check which videos your favorite people were in, look at a detailed bios and descriptions of your favorite roleplay characters, vote for your favorite mods, get inside info on VenturianTale news and videos, read epic and chilling fan-fictions, view hilarious images of Jordan and his siblings, watch videos that we all love to quote, and even clear up confusion on the whole channel by reading mind-blowing theories! With over 730 pages, each explaining what we all love about the crew and more, what can YOU discover on this extraordinary wiki?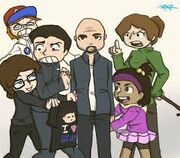 VenturianTale Wiki Official Twitter!
[
]
VenturianTale Wiki has it's own Twitter account now! If you have a Twitter account, check it out! Click here.
RULES (must read)
[
]
1#- No bulling people because of their race, sexuality, religion (or lack of religion) or disabilities; your opinion, political stance or religious views are not an excuse to violate this rule.
2#- Do not push your beliefs and/or religion onto other people, which includes converting or discriminating against religions or Atheist world views. They all have the right to think as they please.
3#- Respect other people's view unless this conflicts with the previous two rules, in which case report it.
4#-  Do not start arguments in the comments and try to refrain from using profanity. Refrain from using words that can be sensitive to certain groups.
5#- Try make a "Sources" section in your page with links to official things, showing what you have typed is fact. In your articles, cite your facts in brackets ([]) 
6#- Do not post pictures, videos, or articles that have nothing to do with the wiki's content. 
7#- Put the title of the page at the beginning in bold (Example: Papa Acachalla). 
8#- If any content is fanmade, put Fan: before it. (More info on Fan Pages.)
9#- Do not edit fanmade materials unless given permission by the author. 
10#- Do not upload personal information about yourself or any of the VenturianTale crew.
11#- Do not vandalize pages. Doing so will result in a ban of length depending on the admin.
12#- Report all vandalism. Do so by contacting an admin.
Main Cast
Guests
[
]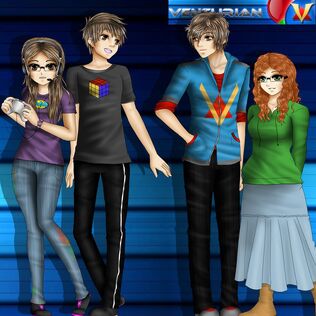 Admins on the Wiki

[

]
Other VenturianTale Wikis
[
]
Fan Fictions
[
]
Most of these belong to Justjackbros. Some are pretty good FanFictions
Casket: Jimmy Casket's Origin - A Creepypasta of Jimmy Casket, by Justjackbros
Ghost: Casket Sequel - Sequel of "Casket", by Justjackbros
New Email (Jimmy Casket) - A Short CreepyPasta Fan-Fic by Justjackbros
Jimmy Casket vs. Jeff the Killer- A one-on-one murderer duel by Justjackbros
The Game of Casket - An amazing story about love and bloodshed by Justjackbros
The Rise of A Queen (Vahl's Beggining)- The Story of Vahl's shipwreck by Justjackbros
The Case of the Clogged Toliet (Based of real events) by Justjackbros
Acachallas' Days in WW2 - The time Papa Acachalla serves in the military in WW2, by ???
The Murder at the Library (Based off real events) - The Story given by Flutterbat on the Flutterbat Episode, by Justjackbros
The Falling Heroes - A Skyrim Tale fanfiction about Vahl's Falling Army, by Clonetrooperfan2207
Secrets Jimmy Casket Origin - The Origin of Jimmy Casket, by H'jar the Assassin
GDeath Jimmy Casket Creepypasta - A Creepypasta of Jimmy Casket
A tale of Dov A Skyrim Tale fanfiction depicting the return of a great friend and a foul enemy,  by destroyah
Cierra's Nyan Cat Theory - Read the title to know what it is, by an anonymous user
Acachalla Theorys/Possible Storylines - The stories behind the Acachalla Family, by Justjackbros and others
Family - A story about Billy and Sally Acachalla, by Vamonkey
The Shadow of The Acachallas - by Unknown
The Lost Brother - The Story of Vahl's Elder Twin Brother Gaelan, by MCab719
The Dragonborn's Beginnings - The Story of Vahl's entrance to Skyrim, sort of a sequel to The Lost Brother, by H'jar the Assassin
Rise and Fall of the First - Three stories depicting Miraak's Rise and Fall from power. by MCab719
A Tale Of Lydia - A story regarding the past life of Lydia.
The VenturianTale National Character Tournament - A booster for the VenturianTale Character Tournament by Justjackbros