Grandma is an ongoing fantasy drama Minecraft machinima series created by Bethany and Isaac Frye and released on Bethany's Flying Pings YouTube channel.
Plot
[
]
Cast
[
]
Misconception

[

]
Bethany "Flying Pings" Frye - Mercy Thomason, Ray Thomason, Neighbour, additional voices
Isaac "HomelessGoomba" Frye - Morgan Thomason, Clifford Thomason, Natalie, Lora, Hunter, George Arlo
Jordan "Venturian" Frye - Ray Thomason, Hunter, Thief, additional voices
Combatcameraguy - Kevin
Michael "MCab719" Cabungcal - George Arlo
Lisa "DrowzeeinaTux" Cooper - Mandy Arlo, Paige, Hymm, and additional voices
Unoiiw - Eve Arlo
Hayley "Mermaid_kaii" Smelker - Angie Arlo
Rory88 - Charlie
Colton "Digi Central" Weddle - Avery
TheFriendlyGuy - Porter
Crystal Chaos ... Rosie
Amanda "ClaraDerps" Clara - Brown Haired Nurse, Additional voices
Ann Foster - Black Haired Nurse, Additional voices
Luna_nightos_fear - Additional voices
Marciano "Satoshi" Sturgeon - Officer Pierce, Additional voices
Afterlife

[

]
Lisa Cooper - Paige, Mandy Arlo, Hymm, Orphanage Owner
Colton Weddle - Avery, Student, Officer Gale Pierce
MoonHeartMo - Ann Brooks
Aimée "Fantasy Lightning" Pickering - Waitress
Junior/TheFriendlyGuy - Porter
Emily "Crystal Chaos" Walsingham - Rosie
Marciano "Satoshi" Sturgeon - Business Man
Luna_nightos_fear - Little Girl
Production
[
]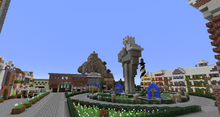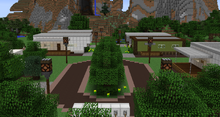 The story was developed by Bethany with the help of her siblings, based on a storyline that Bethany and Isaac developed as children.[1]
Some of the sets that will be used are in Contingencity, a town in Cierra's Minecraft realm, bar a few made by Bethany and Isaac specifically for the series.
Grandma was originally split into two distinct seasons, each produced concurrently, with overlapping story arcs that interweave between first and second season episodes, making watching the episodes in order of season somewhat confusing. The first season - titled Grandma: Misconception, deals with the Thomason family as they struggle to keep their youngest son Ray's secret. The second, at first given the working title Grandma: Resurrection and on release Grandma: Afterlife, follows some characters featured in a smaller capacity in the first season at roughly the same time as the events of the earlier season. In early 2018 it was decided to rebrand the the two series as one, issuing them in the correct viewing order to remove the confusion.
References
[
]