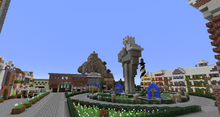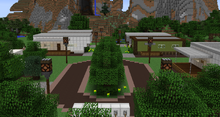 Grandma is a roleplay series created within Minecraft. The series, a drama, is directed by Bethany, who also created the story with Isaac, Jordan, and Cierra. It is based upon a storyline that Bethany and Isaac developed as children.[1]
Some of the sets that will be used are in Contingencity, a town in Cierra's Minecraft realm, bar a few made by Bethany and Isaac specifically for the series.
The main characters Mercy and Morgan are portrayed by Bethany and Isaac, respectively. The series is stated to be rather serious.[2]
Cast
[
]
Flying Pings ... Mercy Thomason and additional voices (unnamed characters)
HomelessGoomba ... Morgan Thomason, Clifford Thomason, Natalie, and Lora
Venturian ... Ray Thomason, Hunter, and additional voices (unnamed characters)
Rory88 ... Charlie
Combatcameraguy ... Kevin
MCab719 ... George Arlo
DrowzeeinaTux ... Mandy Arlo, Paige, Hymm, and additional voices (unnamed characters)
Unoiiw ... Eve Arlo
Satoshi ... Officer Pierce and additional voices (unnamed characters)
Mermaid_Kaii ... Angie Arlo
Digi Central ... Avery
TheFriendlyGuy ... Porter
Crystal Chaos ... Rosie
ClaraDerps ... Additional voices (unnamed characters)
Ann Foster ... Additional voices (unnamed characters)
Luna_nightos_fear ... Additional voices (unnamed characters)
References
[
]