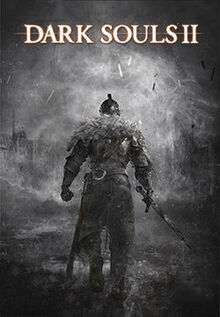 Dark Souls II (ダークソウルII Dāku Sōru Tsū?) is an action role-playing video game. The third game in its series, Dark Souls II was developed for Microsoft Windows, PlayStation 3 and Xbox 360 by From Software, which also published the game in Japan, while Bandai Namco Games published the game in other regions.
Dark Souls II was announced at the Spike Video Game Awards on December 7, 2012. Hidetaka Miyazaki, who served as director on the two earlier games in the series, Demon's Souls and Dark Souls, acted as a supervisor, while the game was directed by Tomohiro Shibuya and Yui Tanimura. Although set in the same world, there is no direct story connection between Dark Souls and Dark Souls II. The game uses dedicated multiplayer servers. Taking place in the world of Drangleic, the game features both player versus environment (PvE) and player versus player (PvP) play, in addition to having some co-op components. As in the earlier games in the series, it once again features challenging gameplay, but with a more powerful graphics engine and more advanced AI system.
After some initial delays, the game had its official launch in North America on March 11, 2014, with the PC release launching on April 24, 2014.
An updated version of the game, Dark Souls II: Scholar of the First Sin, was released in April 2015. The title is a compilation of the original game and its downloadable content and patches, and also encompasses a remastered port of the game for PlayStation 4, Xbox One, and PC with changes to the game's layout, upgraded graphics, and expanded online multiplayer capacity.
Acachalla revamp
[
]
When the first Dark Souls video was released, Papa Acachalla had a major revamp. Papa became completely bald, now decked in chain armor, and a slightly bigger nose then the original Papa model used in Gmod.
Dark souls was the first in a line of games Jordan played after Minecraft crashed, accompanied with a new protagonists known as Squishy Trump.
Trivia
[
]
While the game is rated T (unlike Dark Souls), it was turned to an M when the DLCs were released. (The standalone is T, but the DLCs are M)
The is one of the few games other then Garry's Mod to have Papa Acachalla in it.