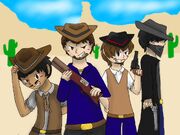 The Acachalla gang, consisting of Papa, Maxwell, Jeremy, Princeton and Jose, were deadliest gang in all of Mexico. They robbed banks and trains. Their rivals are The Gertion Mafia.
Jeremy became a horrible shadow creature at some point. Papa Acachalla managed to keep him locked up in the basement. Billy and Sally discovered him whilst cleaning and accidentally let him loose. They were saved when Minichalla intervened and killed him.
Princeton was murdered by a foreign boy. He soon got his revenge when he came back from the dead and killed him. Princeton is now sheriff.
Maxwell was killed in a bank robbery, but came back to haunt Papa and his family.
Jose became the president of mexico. He died in 1955 but came back. He now somehow possesses Papa Acachalla on Mondays and at midnight.
Since the former gang members have all died or moved on, Papa has started a new Acachalla Gang with Gertrude, Billy, and Sally.
Trending pages
All items (14)