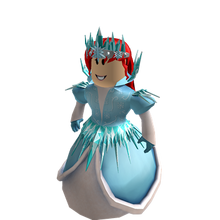 Bethany is a character in Roblox played by Bethany Frye.
Biography
[
]
Currently, Bethany wears the "Snow Queen" dress, the "Scarlet Hair" and the "Sparkling Wings" from the Roblox catalog. Her Roblox username is bethanyfrye.
Appearences
[
]
Check out their YouTube channel, VenturianTale, and go to their playlist named "Roblox Gameplay" or something like that to see bethanyfrye play Roblox. She doest always play Roblox, but recently, she has been the one recording most of the Roblox videos.
Alternate version
[
]