Baymax (Gmod)

Baymax from the movie
Information
Gender
N/A
Played by
Cierra
Status
Active
Position/Rank
Superhero, 7-11 employee
Nationality
American
Age
N/A
Group
7-11 Staff
Weapon
N/A
Debut
Big Hero 6 (2014 movie)
Baymax is a balloon robot that works at Papa Acachalla's 7-11, and tried to sell a Wash Tub to Papa Acachalla, only for him to be killed by Sally Acachalla when she put balloons on his car, causing him to fly upwards and then fall o his death.
Soon enough Officer Maloney investigated the 7-11. He would have arrested Baymax had it not been the sudden appearance of his mother and family from space, which creeped Maloney out so much that he arrested himself to escape.
Trivia
[
]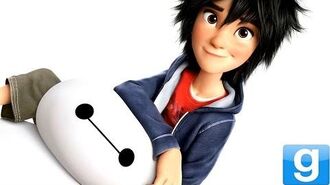 He turned Johnny Toast into another Baymax (Johnny described it as a fat Mega Man.)
He works at 7-11.
He has a queen.
he is credited for defeating Jordan's champions. Including Papa Acachalla,Maloney and Johnny Ghost.
He sells Wash Tubs.
He is a character from Big Hero 6.
Quotes
[
]
"Give me your money!"
"Nooo!"
"I'm stuck!"
"Momma!"
"Momma's flying to the moon!"
"I'm moving!"
"I jumped out of a window!"