Another Minecraft Tale is a VenturianTale adventure series and the sequel to A Minecraft Tale. As the name suggests, it revolves around the game Minecraft. This is the first series to feature all members of VenturianTale, unlike the last season which featured only two members (Jordan and Cierra Frye), and subsequent series which would feature only one (A Mini Minecraft Tale, which featured only Jordan) or two (An Awkward Minecraft Tale, featuring Cierra with an occasional guest) members.
As of September 11th, 2019, the dubbed "second season" for Another Minecraft Tale started, and features everyone who was in season 1. It is unknown if they will have other guests.
Episodes
[
]
Main Article: List of Another Minecraft Tale episodes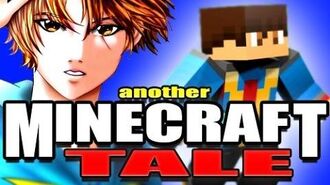 Cast
[
]
This time, the crew contains Venturian, ImmortalKyodai, BethanyFrye, and HomelessGoomba. In other words, all four members are present.
During episode six, the four siblings split into two teams. Homeless and Venturian make up Team Taco, while Bethany and Immortal make up Team Tortilla, but was eventually disbanded in favor of Mr. Blocks class.
Home
[
]
Instead of returning to Ventopia and having Homeless and Bethany sleep in the two extra rooms, they enter a new land where they have many levels and a watchtower, but no bed. Their house includes two mines, Isengarde, and an unknown mine, which is a favorite. They have a graveyard, full of Homeless, Venturian, and a bit of Bethany and Immortal's graves. They have a fake home, a burnt home, and a dwarven home over Isengarde. The gang has also created a portal to the nether, with intent of possibly colonizing it.
Personalities
[
]
Animals and Mobs
[
]
The Snarky Tree Pigs, Mountain Cows, Assassin Sheep and Lake Chickens are back with the new race, the Horde of Horses, and Bethany has mastered a call for them taught by Tommy, but she summons witches and creepers much to cause damage.
A new Daxius inhabits the new land.
There are no pets, but the yellow flowers have taken a relationship with Venturian.
Gallery
[
]