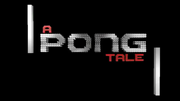 A Pong Tale was VenturianTale's 2015 April Fools project in 2015. In the series' one episode, Venturian (known here as legitsniper46) tricked viewers into thinking they were quitting their other games (Garry's Mod, Just Cause 2 etc.) and instead they were only playing Pong, the "hardest of corest video games." Over the course of the video the content was gradually cut back, until finally Jordan said he was removing his webcam and microphone feeds from the video so the viewers could focus entirely on the gameplay over reactions. The rest of the video is the game of pong continuing to the end of the video. After the end card has displayed a clip plays of Spongebob Squarepants saying "April Fools!"
Join me on my brand new adventure in Pong! Adventure awaits, as does many many perils. Watch as I stumble my way through the dramatic and beautiful life of Pong.
Community content is available under
CC-BY-SA
unless otherwise noted.